News
28.12.2019. - 14:46
Presentation of the programme "SERBIA 2025"
President of the Republic of Serbia, Aleksandar Vučić and the Prime Minister of the Republic of Serbia Ana Brnabić presented today the programme "SERBIA 2025", which comprises a plan of investment projects for the further development of Serbia over the next five years.
"We will make our country a better place to live," said Prime Minister Ana Brnabić, presenting the plan for the future - SERBIA 2025, adding that the key points of the plan for the future are regional integration, deepening of the financial market, education reform, empowering public enterprises and a sustainable economy. 
Speaking about regional integrations, she highlighted the so-called "mini Schengen" initiative that will facilitate access to a larger market, reduce business operating costs and increase competitiveness. Prime Minister Ana Brnabić said that much has been done in the education reform, that a science fund has been established and dual education introduced.  
"We need to continue with this course in order for Serbia to become a leader in the fourth industrial revolution. Ninety million euros will be invested in the development of artificial intelligence. We need to introduce dual education in the universities as well," stressed the Prime Minister of Serbia and particularly emphasised the chance of Serbia in sustainable economy. She stated that projects under the "SERBIA 2025" plan are worth slightly less than 14 billion euros and added that the funding would come from the budget and loans from international financial institutions. 
President Vučić emphasised that maintaining peace and stability in the region is a prerequisite for effecting the national investment plan. He said that since 2014, difficult reforms had been carried out, but that they were curative and that Serbian citizens deserve the greatest applause.  
"We did this thanks to the people and the ones who trusted their country," said President Vučić, adding that the most important thing today is to considerably reduce the proportion of young people leaving the country. 
"Serbia is a prosperous country today. We had to implement tough reforms and we succeeded! Today we stand before you to show you what we will do to make a better living for the people of Serbia. We will stand firm behind this plan, we will surely be proud of everything we have done because you cannot take away the work and the results of the work or knowledge from anyone. If we carry out all the reforms that Prime Minister Ana Brnabić talked about, our plan and our projection is that the average salary in Serbia will be 900 euros by the end of 2025, with an average pension between 430 and 440 euros and that is what we can and must do in a short time," explained President Vučić. He stressed that the most important fight for young people was the fight for life, adding that EUR 500 million would be set aside to encourage young people to stay in Serbia. 
"It is a struggle for young married couples to get a roof over their heads, to start working earlier, to have children sooner so that we do not lose a whole generation," said President Vučić stating that the average age in Serbia is 46 and that we are losing a whole generation in comparison to, for example, Turkey. 
President Vučić announced that 200 million euros will be earmarked for increasing financial contributions for newborn children, subsidizing kindergartens, biomedically assisted fertilization, counselling work on the reproductive health of young people, as well as for the protection of children with autism and assistance to mothers in every way during pregnancy and childbirth. 
President Vučić said that the "SERBIA 2025" programme is worth a total of 14 billion euros, which is approximately another additional budget of Serbia, and announced that more than five billion euros will be invested in road infrastructure under the programme.  
"We are going to criss-cross the whole of Serbia, we are going to reconstruct 5,000 kilometres of roads in Serbia, we will invest 3 billion and 33 million in railway infrastructure, and there will also be a metro in Belgrade for which we predicted one billion and 700 million," said President Vučić, emphasising that a highway Sombor–Kula–Vrbas–Bečej, Novo Miloševo, Kikinda will be built. In this way, the northwestern part will be fully connected with the northeast of the country, and the Belgrade-Zrenjanin highway as well as the Novi Sad-Zrenjanin road will be constructed in addition.
President Vučić said the Morava Corridor will be completed in three years, while one of the major projects is the "Vožd Karađorđe" section, where EUR 100 million have already been provided. He also said that EUR 274 million will be granted for investments in water transport and in the agricultural sector where a total of EUR 300 million will be invested outside the budget. EUR 200 million will be earmarked for investment in tourism infrastructure.  
President Vučić said that a large amount of money will be invested in sports infrastructure in the coming period because it is related to tourism. Among the upcoming projects, President Vučić indicated the national stadium in Belgrade, the city stadiums in Subotica, Leskovac, Zaječar, Kraljevo, Loznica, Kruševac, Vranje, Novi Pazar, the multifunctional hall in Košutnjak, the National Volleyball Center, the Ćuprija Athletic Centre, Vrnjačka Banja swimming pool complex, Basketball National Training Center, Karataš Sports Centre and a shooting range in Bor. 
President Vučić also announced that the Office for Kosovo and Metohija will receive an additional 150 million euros for infrastructure projects, as well as the allocation of an additional 100 million euros for cooperation with the Republic of Srpska. 
"In the coming period, an additional EUR 600 million will be invested in Serbian healthcare," said President Vučić, stressing that Serbia is not in crisis, but that life in Serbia will be much better.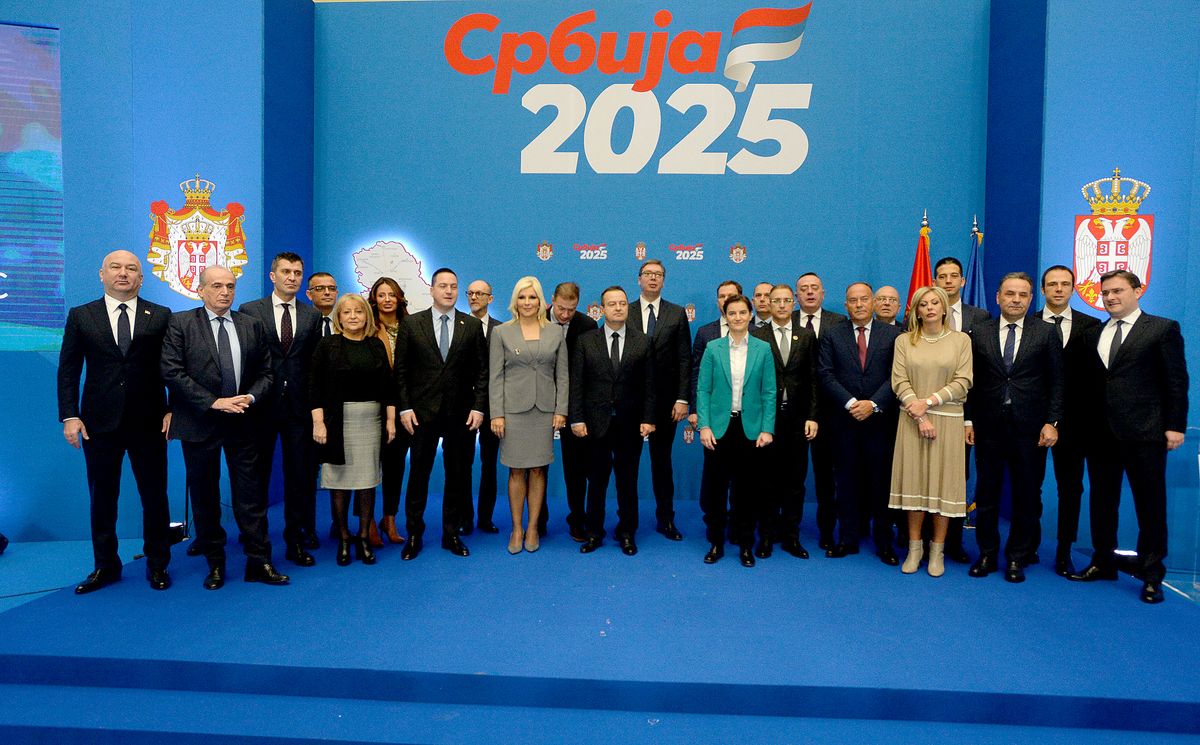 "I am convinced that the future of Serbia will look differently, more attractive and better and that our people, and our children above all, will be infinitely happier than before," President Vučić said, concluding his presentation of the investment programme for the next five years. 
Belgrade, 28th December 2019